Preparatory faculty
Russian as a Foreign Language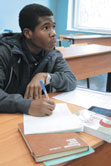 Russian language education programmes at Samara University are provided by the Pushkin Institute Centre. The General Education Programme Centre teaches Russian to foreign students of Samara University and applicants to other Russian universities.
The Department of Foreign Languages provides instruction to all Samara University international students attending undergraduate and Master's programmes.
Work is underway to offer MOOCs in aviation and space exploration, organise sociological surveys on the problems of studying Russian as a foreign language at universities in Russia and abroad, and provide educational tourism programmes, academic contests and competitions.

Specialists

Natalia Genadevna Sedenkova,

Tatiana Victorovna Nechaeva
Major Curriculum
During studying at Preparatory faculty, students will attend Russian and several major subjects, such as mathematics and physics. These classes will be taught by the Faculty of Basic Training and Fundamental Disciplines of Samara University. The classes will allow international students to get used to the way classes are taught at Samara University, and gain some understanding of the coursework as well.
Head of the Office
Evgenii Aleksandrovich Izsheurov
+7 (846) 335-86-51, Room No.348, Build. No.5, iszheurov@ssau.ru
Seminars and Tours
During the studying at Preparatory faculty, international students will participate in various training events, where they will learn about studying in Russia and the Russian mentality. Classroom work will be expanded to include tours around Samara. Students will learn about living and studying in another country, visiting different landmarks and participating in various events.
Preparatory faculty Assistance and Support Information Centre has several services that provide answers to the questions you might have.
These services include the Socio-Psychological Centre and the Healthy Lifestyle Promotion Centre.
Director, Samara University Socio-Psychological Centre
Nina Borisovna Igolkina
Head of the Healthy Lifestyle Promotion Centre
Tatyana Alexandrovna Morozova
Contacts

Lukacheva St., 46, Health Centre

(enter from the side of the building)
Extracurricular Programme Office
The Extracurricular Programme Office's mission is to create conditions for the personal and professional development of students. Their work allows international students to integrate smoothly into the Russian socio-cultural environment.
Head of the Office
Contacts

Maria Gennadyevna Reznichenko
+7 (846) 267-48-68
Moskovskoe Shosse 34a, Building 3, Room 317