Migration regulations
Obtaining Migration Permits
International students at Samara University must come to the Samara University International Office on the day of arrival or on the next business day to file their migration permit application. To this end, they must bring along: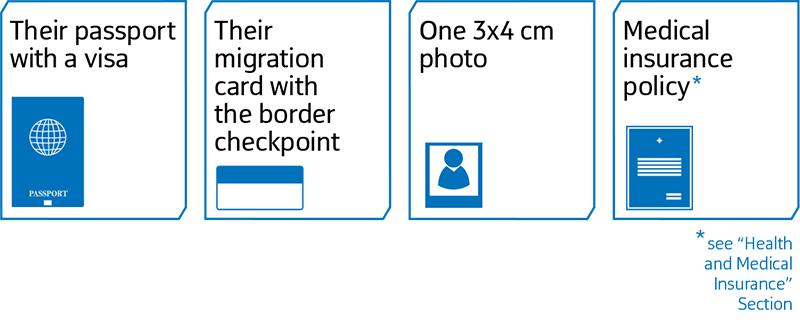 Once your registration permit is issued, you will be given a registration permit slip.
! Please be aware that:
1. You will not get your registration if you do not present at least one of the aforementioned documents or if any one of them has been issued with errors.
2. If you fail to register on time, you will be subject to a fine.
3. Your activities while you are in Russia must correspond to the type of visa issued to you. If you have a study visa, then you must be studying full time.
4. If you lose your passport with your visa, migration card or registration permit slip, report to the Samara University International Office immediately to restore your lost documents.
5. You must leave Russia upon expiration of your visa.
6. If you have been registered in another city of Russia (hotels register you by default), remember to get your registration permit slip before you leave. When you arrive in Samara, come to the Samara University International Office and get re-registered.
Extending Your Visa
All international students are usually issued a single-entry visa for 90 days. Then your visa must be extended, and a new multi-entry visa will be issued. To extend your visa you must come to the Samara University International Office at least 40 days before your visa expires, and present the following documents:
1. Passport (or other identification document).
2. Your migration card.
3. Your registration permit slip.
4. One photo (matte, 3x4 cm, with no corners or frames).
5. State duty payment document.
6. A copy of your contract; for students with state-sponsored study places – a copy of the education programme authorisation issued by the Russian Ministry of Education and Science.
Leaving Russia Before Your Visa Expires
Whether you can leave Russia before your original visa expires depends on the type of visa you have. For the first three months (while you have a single-entry visa), you will not be allowed to leave Russia (for the 90 days of your visa's validity). If you do, Samara University will have to send you another invitation to come (30 days). In three months, after you receive a multiple-entry visa, you will be able to travel in and out of Russia.
Samara University

International Office

Staff at the Samara University International Office will assist you throughout your stay and provide support in various situations. Here, they will issue you several documents (your student ID will be issued by the Dean's Office or Directorate of the Institute).

Head of the International Office
Deputy Head of the Department
Registration, support, assistance for international students
Foreign education documents nostrification manager
Manager of foreign business trips for Samara University students and staff
Sergey Nikolaevich Tiz, Ph.D.
Anton Alexeevich Gulbis
Tatyana Alexeevna Grigoryeva
Anna Grigoryevna Berezina
Elena Sergeevna Negrulya
Contact Information +7 (846) 267-43-73
Phone/Fax +7 (846) 334-57-22